This article is a stub.
Please help Dragon Quest Wiki by expanding it.
Akira Toriyama (鳥山 明, born 5 April 1955) is the main character and monster designer of the Dragon Quest series. He is otherwise known for creating manga series.
He debuted in 1979 with the story Wonder Island, published in Weekly Shonen Jump, and first gained popularity for the anime and manga series Dr. Slump, originally serialized weekly in Shonen Jump from 1980 to 1984. In 1982, he won the Shogakukan Manga Award for Dr. Slump for best shonen or shojo manga series of the year. After that, he penned Dragon Ball, which ran from 1984 to 1995, becoming one of the most influential and popular manga of all time, worldwide, which receives an anime adaptation which ran from 1986 to 1996.
The Puff-Puff running joke of the Dragon Quest series debuted in chapter 5 of his Dragon Ball manga, predating the game release by two years. Furthermore, during the publication of the same series he inserted monsters from the Dragon Quest series, although the manga being in black & white, it is impossible to know the specific species: an Orc, a Shaman, a Sabrecat, a Gigantes and an Archdemon participate in 22nd Martial Arts Tournament in chapter 114 while only the Shaman, Sabrecat and Gigantes reappear in chapter 115. They also appear in the TV series adaptation. A Medislime can be seen in Beerus' ocean during the Dragon Ball Z: Battle of Gods film.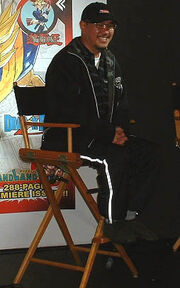 His manga editor at the time, Kazuhiko Torishima, pushed for Toriyama as the artist for the original 1986 Dragon Quest.[1] His clean line and design sense also led Toriyama to jobs as the character designer for the Super Famicom RPG Chrono Trigger, the fighting game Tobal No. 1, the Playstation (as well as its sequel, Tobal 2, released only in Japan), and the Mistwalker Xbox 360 exclusive RPG Blue Dragon.
A compilation of his Dragon Quest work was published in Dragon Quest Illustrations: 30th Anniversary Edition
References
External links