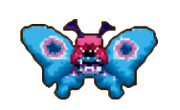 Bug Family (虫, むし, Mushi, insect) refers to monsters in the Dragon Quest series that take on forms of insects, arachnids or gastropods.
Strength and Weakness
Strength:
The snail type of bug can roll into their shell and use the Pincushion ability. This halves the damage taken and reflects one quarter of that damage back at the attacker. In addition, many bugs can inflict status effects like poison or sleep.
Weaknesses:
Knives deal 110% damage to bugs, and the knife move Fly Swat deals even heavier damage. Additionally, most bugs have terrible defenses both physically and magically.
Sub-types of Bug Family
Trivia
Community content is available under
CC-BY-SA
unless otherwise noted.