Cantlin
Japanese name
メルキドの町
Rōmaji
Merukido no machi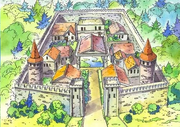 Cantlin (Mercado in the GBC translation) is a walled city located in the south central region of Alefgard. It exists in Dragon Quest and Dragon Quest III. It does not appear in Dragon Quest II, similar to many other locations in Alefgard. Cantlin is most famous for being guarded by a golem in the original game. It was recently featured in Dragon Quest Builders as the starting city, followed by Rimuldar.
Synopsis
In Dragon Quest, the city of Cantlin is typically the last major city the hero visits. It is surrounded by some of the strongest outer world monsters. When first approached, the city is guarded by a golem monster, which is triggered when the hero first attempts to enter the mountain range surrounding the city. This battle is a one time event, and is the only place where a golem can be encountered. The weapons and armor shop in Cantlin sells the best equipment the character can purchase in the game. Despite all of this, Cantlin is a not a required location to visit in order to complete the game.
In Dragon Quest III, Cantlin contains references to its future representation in Dragon Quest, such as a man contemplating the construction of a golem to protect the city from attackers. Although all of the shops listed below exist, none of them are occupied or sell anything. The residents of the town have given up working due to the archfiend.
In this game, Cantlin consists of different areas that can be reached by using teleportals: Hammerhood Heights, the Damdara Desert and Rockbomb Ravine.
Weapon/Armor Shop 1
Weapon/Armor Shop 2
Weapon/Armor Shop 3
Item Shop
In the NES version, the item shop is referred to as a tools shop.
Inn
Other languages
Other languages
French
Cantelin
German
Unknown
Spanish
Unknown
Italian
Unknown
Dutch
Unknown
Swedish
Unknown
Greek
Unknown
Portuguese
Unknown
Russian
Unknown
Chinese
Unknown
Korean
멜키드