Dragon Quest Monsters: Joker 2 is a Nintendo DS console role-playing game published by Square Enix. It is a sequel to Dragon Quest Monsters: Joker and is the fifth game in the Dragon Quest Monsters series. It was released in Japan on April 28, 2010 and it was released in North America on September 19, 2011 and in Europe on October 7, 2011. On the Japanese website it was stated that in America, the Monsters Joker WiFi world cup will end on March 31st. There is a American release date for DQMJ 2 on the E3 2011 site from Nintendo (Sep. 2011).
For DQMJ: 2 PRO here's an English patch and a wiki: http://dqmj2p.wikkii.com/wiki/Main_Page
Joker 2's gameplay follows closely to its predecessor. Players explore islands and tame wild monsters into their party. Now there are monsters of different sizes. The player must play the game and speak to Leonyx after the credits. Monsters fight in turn-based combat and grow stronger. Hundreds of monsters from the Dragon Quest games appear in Joker 2, with a few new species. This is the first game in the series to feature WiFi support. Players can also connect with Dragon Quest IX and VI to capture monsters that appear in said games.
Story
Battle against monsters ten times your size as you explore the island in a quest to escape. Go through various challenges and battles as you train to become the world Monster Scout Champion! Join the Monster Scout Challenge and win against everyone to come out on top You have crashlanded on an island and only by winning and growing your team can you escape... [1]
Gameplay
Online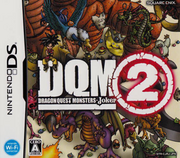 Joker 2 has WiFi support and Square Enix has announced that up to eight players can connect to each other. The game will also keep track of the best players through leaderboards.
On February 26, 2014, Nintendo announced that Nintendo WiFi Connection will be stopped. the date given was May 20, 2014. As such, DQM:J2's WIFI features will not work, but DS to DS should. it will also not effect offline play.
Giant monsters
Giant monsters are massive creatures that take all three monster spots and are incredibly powerful. There is one in each area: Missing Lynx (with Tall Tail), Baby Bjorn, Empyrea, Wormonger, Khalamari (with Tentickles), Sagittar and Malevolynx. You can also synthesise even more three-monster-spot monsters, like Canzar, Rigor Mortex and many more!
Features
You can also play through the game normally, but you can also play on other things. There are better monsters to create, more areas to discover, more bosses to defeat.
You can also battle online against players and win rare monsters you can't get anywhere else!
You can face off against ultimate bosses and still come out on top!
You can even create your dream Dragon Quest Monsters team and collect them all!
References
Community content is available under
CC-BY-SA
unless otherwise noted.