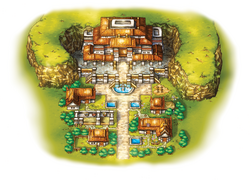 Ghent is a town in Dragon Quest VI that is known for healing. The Hero meets a party member named Nevan, the Ghentile Prodigy. He is a healer and a very good addition to the party. Ghent has a boat called the Providence which you use to sail toward the Isle of Murdaw.
Other languages
Other languages
French
German
Gent
Spanish
Italian
Dutch
Unknown
Swedish
Unknown
Greek
Unknown
Portuguese
Unknown
Russian
Unknown
Chinese
Unknown
Korean
Unknown
This article is a stub.
Please help Dragon Quest Wiki by expanding it.
Community content is available under
CC-BY-SA
unless otherwise noted.