Minstrel is a vocation in the Dragon Quest series.
Main game appearances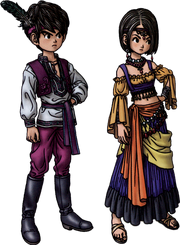 In IX, the Hero/Heroine always begins the game as this class. It has limited healing and damaging spells on top of the ability to wield fans, swords, whips, and shields.. Minstrel is a fairly balanced class, partly because all of a minstrel's stats improve each level, whereas only some of the other classes' stats improve on each level-up. Their Coup-de-Grace is "Rough N' Tumble," which increases evasion and counterattack chances.
Litheness
Spells
Notable Minstrels
This article is a stub.
Please help Dragon Quest Wiki by expanding it.
Community content is available under
CC-BY-SA
unless otherwise noted.