For the Dragon Quest series monster, see Ogre (monster).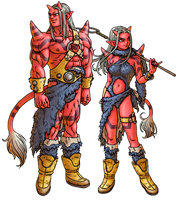 Ooga is a race that exists in Dragon Quest X. A race called Ogre, ogres have a strong body that can withstand the harsh environment of the Auglead continent. It is a belief that it is busy with training every day, and the strength is extremely extreme.
Main game appearances
They have a pair of small horns on their foreheads, a cow-like tail, red skin, and horn-like spikes in several places such as their shoulders.
Ogres have a strong similarity to the way Akira Toriyama draws the various demons and trolls in Dragon Ball.
Gallery
Other languages
Other languages
French
Unknown
German
Oger
Spanish
Ogro
Italian
Unknown
Dutch
Unknown
Swedish
Unknown
Greek
Unknown
Portuguese
Unknown
Russian
Unknown
Chinese
Unknown
Korean
Unknown
This article is a stub.
Please help Dragon Quest Wiki by expanding it.
Community content is available under
CC-BY-SA
unless otherwise noted.