The Priest specializes in restorative and defensive spells

— Dragon Quest VII
Priest is a vocation in the Dragon Quest series.
Priests specialise in healing and fortifying spells rather than attack magic, and are some of the only characters who can learn to revive characters while in the field. Priests cannot equip heavy armour, but they can use weapons much like a Hero or a Warrior can. Priests do have initially more strength, agility and resilience than Mages, but on the whole, their physical combat potential is unimpressive at best.
Appearances
Main games
Stat Changes
| | |
| --- | --- |
| Statistics | Change |
| Strength | -20% |
| Agility | -10% |
| Defence | -30% |
| Wisdom | +10% |
| Max. HP | -20% |
Abilities
Stat Changes
| | |
| --- | --- |
| Statistics | Change |
| Strength | -20% |
| Agility | -10% |
| Guard | -30% |
| Intelligence | +10% |
| Appearance | -/+0% |
| Max. HP | -20% |
| Max. MP | -/+0% |
PS1 Abilities
Hybrid Abilities
Usefulness
One of the first classes that any player should choose for any party member is the Priest class. All of the spells that the Priest learns are useful throughout the game. The only downside to this class is that the class takes a long time to master.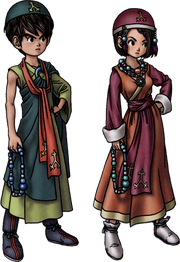 The Priest vocation is available at the start of the game and has the unique skillset "Faith". Priests can also use skill points to learn Spear, Wand, Staff, and Shield skills. Their Coup-de-Grace is "Choir of Angels," which heals all party members and removes negative status effects.
Faith
Spells
Heroes series
Other games
Trivia
In IX, it is possible to obtain equipment worn by members of the Priest class from Dragon Quest III, which can only be equipped by Priests. They are a "Mitre" (head), "Surplice" (torso), "Minister's mittens" (arms), "Trinity tights" (legs), "Blessed boots" (feet). Equipping the Priest with a "Orichalcudgel" (staff) completes the ensemble.
Notable Priests
Gallery
This article is a stub.
Please help Dragon Quest Wiki by expanding it.
Community content is available under
CC-BY-SA
unless otherwise noted.